So...today I'm sittin' there having lunch with my sister in the lunch room and we're just yappin' about this and that. This lady walks buy and my sister says 'hi' to her...I'm really not one that ones to make friends or even make loose acquaintances. It's kind of like if you wanna get to me you gotta talk to one of my primaries: my siblings &/or the Momma's (even then you aren't guaranteed), my immediate closest friends (see homies who don't have to call to come over), Mr. Man aka Afrosan, aka Julian (but if you aren't to my liking I'll just leave the room) --- outside of that I just go socially nonchalant.
Back to lunch. So she's makin chit chat and the lady says in Tagalog - oh you're Filipino. She then continues to ask in Filipino, where are you from --- which I don't think my sister heard correctly because my sister answered Country Momma's city location and country location. Instead of letting the conversation die at that point - my sister HAD to introduce me. EW. Then she adds, "yeah, this is my sister..." I smile and shake her hand.
Pleasant smile on my face and evil thoughts in my head.
Well this lady didn't stop - she looked me in my face and said,"ohhh you're filipino too - you don't look like it." My sister smiled nervously and said,"she is my big sister..." I could feel my sister twittering. Then she looked at my sister like my big brown ass was not seated there in my orange and cream plaid sundress and said,"she doesn't look filipino."
I stopped with a forkful of salad in front of my face and asked,"and what exactly do filipino's look like..."
Din't no one say shit then HUH.
Let me show you what a FILIPINO look like...
like this...with your foreuncles head in my forefathers hand
and this...
and this...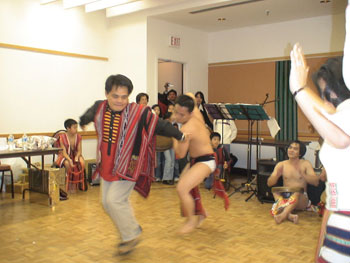 and this
and this
and this...
and this...
how bout this...
and this...
and this...
and this...
and this...
and this...
and this...
and this...
and this...
and this...
and this...
and this...
and this...
and this...
yanno. for realz...like this...
...I'm just sayin...lucky i didn't bust out all my cousins pics...and with the exception of Julian - everyone in these pics is Filipino in some way or part...So shuttup with that "she doesn't look filipino" Climb your DULL head out your LUMPY ass and get off that COLONIAL bullshit. We come in every form...dump that shit out your head lady...lucky for her she's inadvertently in laws with my girl - or i would have HAD that ASS with my lunch.
pffft.
---
attached comments: