Category: Blogging
351 days ago - I met Julian at a Talib Kweli show...He said with a cocky tilt to his head,"I will be takin' a trip down Sesame Street..." I rolled my eyes and smeared around the spot with Wendy Lee...Somehow he found us again and made an ally of Wendy and our first picture ever was taken...
November 2006
November was also the birth of Bomblettes Brunch
Less than a month later...He wound up at my house for Christmas...and admitted he already loved me - within and without...But he knew I wasn't "looking" for a boyfriend but he was putting it out there coz he wasn't afraid of commitment or his feelings. I told him he should ask me in the New Year because things that grow should be planted at the start of the year not the end of it. He rolled with it and charmed everyone. I remember making a pot of coffee for everyone saying,"I really like you Julian..." He smiled and shifted closer and quietly said,"You can love me if you want..."
I didn't say anything.
December 2006
Bomblettes 2, December Style was at WLee's Joint!!!
January came and he asked again and I said Yes over a little Moet...The next day meant Family and a Gelato Date....
January 2007
And I got an extra "boyfriend"...It's Kitchen Love Kid
January also brought the First Gangsta Noodles Ever!!!
January also brought Bomblettes Three...but our sequel was good
February came. His conviction was hella stronger than mine let me tell you...I was having plenty of fun but still dipping the proverbial toe in the water. I was continually impressed by his complete lack of fear and insecurity...Despite all these growing feelings...we remained committed to our individual grinds. The daly hustle never stopped and we never abandoned our goals.
Feb 2007...Valentines Double Date...
I made my Bebe a V-day cake...coz he played his cards right.
February was Bomblettes Quattro!!!
March brought not only my birthday but the Miss Asia Arizona Pageant. It also brought a deep sense of relief when I figured out that my boyfriend and my brother got along really well!!!
G'waaan Wendy...
We alternated between Cheering and Heckling.
It seems the happier we were the fuller our life became...
April Showers brought Asian Flowers. Asian Festival. More Sushi and 420 with the girls...and the Fabulous Gya returns from the Hella Far Mid Huh EAAAAAST.
Just coz you in Love don't mean you can't stunt...May also meant a Mother's Day Barbecue for our friend Bree...The grind was getting faster and harder at this point - but it was just a matter of breaking our professional plateau's.
May 2007
June was heating up and so was my excitement for Life. Life was starting to get pace and rhythm. But a faster pace and a faster rhythm. At times it kind of knocked me off my feet...but this was different...June also brought Sake Smoothie Bomblettes!!!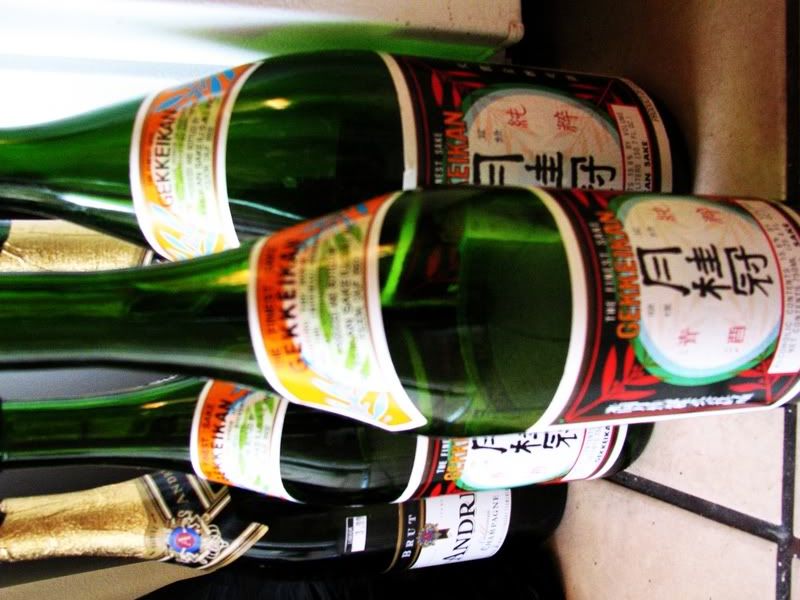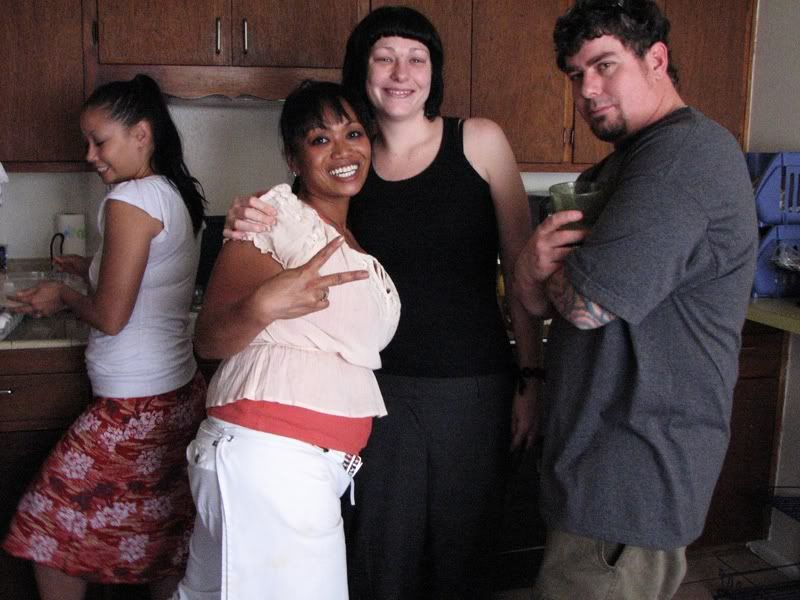 July was just an achey anticipation to spend time with Family and to go have fun. Finally Julian met everyone and even little Tank couldn't help but Fall in Love with Bebe...Then we were off to Chicago for a little business, a lot of pleasure and for me to meet Mama Rita and Carla...After everything went so naturally and smoothly...it dawned on me that we both fit so easily in each other's lives and family for a reason...
July 2007
August brought a clear view of Mars in the Sky which only happens every such millenia. It also brought our first international vacation...We had no desire to come back but we did. I didn't think it was possible but we came back more motivated than before to achieve our goals...
It took about a week to adjust to everyday living and to dispense treats and goodies to everyone. It also brought about Banana Bomblettes!!! That was one of my favorite bomblettes ever. I also got rid of the assistant and started taking on more catering jobs. As if I didn't think I could get any busier. I don't even have photos for the month of September outside of food pictures. I will say this...something about September just allowed me to open my mouth and disagree or be opinionated without anger.
September 2007
October...I got a taste of singlehood without actually being single. Julian went to LA and then to Colorado for a month. It was a steady grind for me juggling everything I was doing. But after a week of being "solo" I kind of liked it...Coffee with the girls, 11 hour days at work...long lunches with Katie and even some time to paint Julian a Rhino in oil and tutor one of the shop kids at making sauces and cooking. I was also writing 5-20 pages a night again...Then...then Julian's boss flew me out to Denver for a few days to 1) see Julian and 2) cater a few days meals. Hecka nice. The day I landed it was 32 degrees and the Denver Airport looked like something out of wizard of oz but covered in powdered sugar...My second day I was there a masseuse was brought in and I got a 2 HOUR MASSAGE in front of the picture window... The best part of being apart for an extended amount of time is that you realize that even though you miss each other...you are confident in what you have and have your OWN individual life to develop...So when you do finally get together it is a wonderful homecoming and not a chore.
Awwwww
October 2007
All this brings us to November...My work has doubled as has his. Yet somehow we are laughing all the way to the top. I was making dinner last night and he came in from work and said,"Give me your hand Bebe..." And we danced in the kitchen. Sweet right...but spontaneous. We still have those long conversations on the balcony under the night sky about everything from our childhoods, to work, to politics and economics, current events or hip hop. We also discuss our goals and how blessed we are. You would think that we would be exhausted with all that we do...but we have synched strength wise. When one is strong the other is there as an "oh shit handle"...When one is feeling overwhelmed the other is there as a reassurance and reminder. But neither of have stumbled. The scary part is when we are both in the "zone"...because THEN our strength is exponential.
I noticed another thing. Food and Love are intertwined in our lives. We must never stop cooking for our friends or having them to dinner...Because as much as we have...it's only right to share. And that doesn't mean food or money...it means love and company.
So...it has been 351 days since I first met Julian. Sometimes I would get so peeved by his antics and joking around and stuff...yet every single one of my girls rallies to his side even if he doesn't know it. He has fans and he didn't even know it. In this almost 1 year...we still have that genuine interest and fascination for each other...You would think we just met..or that we just met all over again